A VINYL GUY IN A DIGITAL WORLD
MUSIC AND REBUS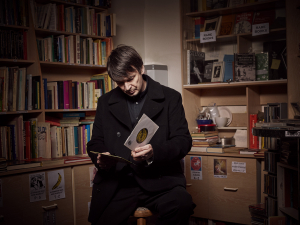 As a music obsessive, it follows that Ian's favourite bands and their music would appear throughout the Rebus novels. But Rankin's taste is not necessarily Rebus's taste, after all, they are separated by a generation. The earliest Rebus novels had the detective listening to classical music and jazz, but as Ian got to know Rebus better he revised his music library and updated it somewhat. The advent of the younger character of Siobhan Clarke allowed Ian to introduce bands that were more akin to Rankin's own preference; Siobhan's bands of choice (and therefore Rankin's) would include the Cocteau Twins and Belle and Sebastian rather than Van Morrison and Jethro Tull.
Ian uses music to give us insights into Rebus's character: 'A person's musical taste says a lot about them… If you are new to the Rebus books you can ascertain his age, class and personality from his listening choices'.
Leonard Cohen or Muddy Waters, for instance, suit the moody, introspective side of the Inspector while mid-period Stones indicates that Rebus is working class, thinks he's a rebel and it also hints at Rebus's age group. The Inspector leans towards musicians who, like him, are survivors. As someone once said, the only living creatures to survive a nuclear war would be some scorpions… and Keith Richards.
Many of the Rebus book titles have been taken from Rankin's favourite albums. Black & Blue, Beggars Banquet and Let it Bleed from albums by The Rolling Stones; Dead Souls is named after a song by Joy Division. Ian collaborated with folk singer Jackie Leven and later lifted two book titles from Leven songs. One was 'Standing in Another Man's Rain' although the actual title of the eventual book is Standing in Another Man's Grave – a 'mondegreen' of the correct title, ie, a misheard lyric, that Rebus hears on the radio after he has attended a funeral.
The Rebus novels are a journey through the music of the last 50 years. Rebus's old favourites that he plays (always on vinyl at home or on CD in his battered old Saab) and the current bands that play over the radio while the detectives sit in their cars are a soundtrack to our lives. Even Ian's new-wave band from University days, The Dancing Pigs, have a brief cameo in Black & Blue.
Ian Rankin's Top 10
Double Barrell: Dave and Ansell Collins
Rage Man: Mogwai
Solid Air: John Martyn
Atmosphere: Joy Division
Snow in San Anselmo: Van Morrison
You Can't Always Get What You Want: The Rolling Stones
The Boy with the Arab Strap: Belle and Sebastian
Linseed Oil: Jackie Leven
Love Song from Apache: Coleman Hawkins
Silver Machine: Hawkwind
Inspector Rebus's Top 10
Paint it Black: The Rolling Stones
Silver Machine: Hawkwind
Paranoid: Black Sabbath
Substitute: The Who
Here Comes the Night: Them
Don't let me be Misunderstood: The Animals
Living in the Past: Jethro Tull
Badge: Cream
Oh Well: Fleetwood Mac
Broken Down Angel: Nazareth