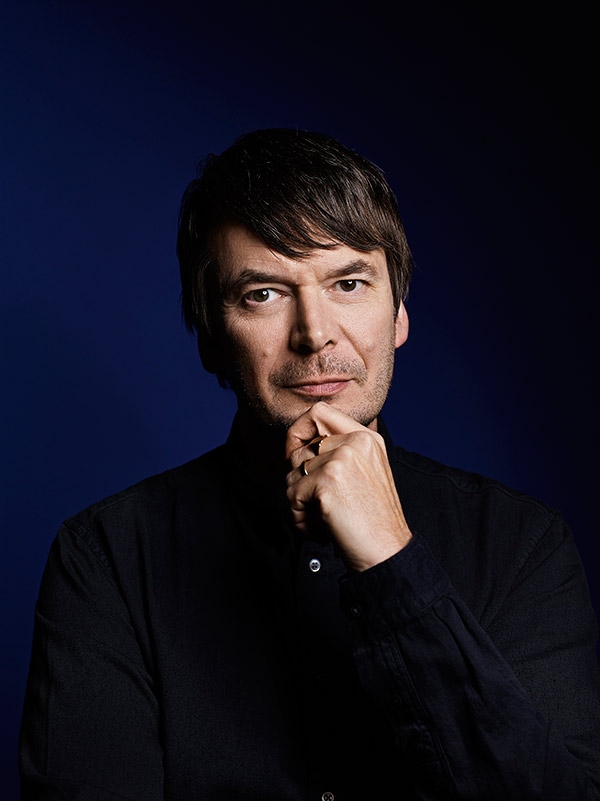 Born in the Kingdom of Fife in 1960, Ian Rankin graduated from the University of Edinburgh in 1982, and then spent three years writing novels when he was supposed to be working towards a PhD in Scottish Literature.
After university and before his success with his Rebus novels, Ian had a number of jobs including working as a grape-picker, a swineherd, a journalist for a hi-fi magazine, and a taxman. Following his marriage in 1986, he lived briefly in London where he worked at the National Folktale Centre, followed by a short time living in France, before returning to Edinburgh.
Ian's first novel Summer Rites remains in his bottom drawer, but his second novel, The Flood, was published in 1986, while his first Rebus novel, Knots & Crosses, was published in 1987. The Rebus series is now translated into twenty-two languages and the books are bestsellers on several continents. In addition to his Rebus and Malcolm Fox novels, he has also written standalone novels including Doors Open, which was televised in 2012, short stories, a graphic novel – Dark Entries – and a play (with Mark Thomson, the Royal Lyceum Theatre's Artistic Director) Dark Road, which premiered at the Lyceum Theatre, Edinburgh, in September 2013. A second play, Long Shadows, starring John Rebus, was co-written with Rona Munro and staged in 2018. There are also a number of novels under the pseudonym 'Jack Harvey' and in 2005 he collaborated with singer Jackie Leven on a CD. His non-fiction book Rebus's Scotland was published in 2005.
Ian Rankin has been elected a Hawthornden Fellow, and is also a past winner of the Chandler-Fulbright Award. He is the recipient of four Crime Writers' Association Dagger Awards including the prestigious Diamond Dagger in 2005. In 2004, Ian won America's celebrated Edgar Award for Resurrection Men. He has also been shortlisted for the Edgar and Anthony Awards in the USA, and won Denmark's Palle Rosenkrantz prize, the French Grand Prix du Roman Noir and Germany's Deutscher Krimipreis.
Ian Rankin is also the recipient of honorary degrees from the universities of Hull, Abertay, St Andrews and Edinburgh as well as The Open University. In 2019, he donated his archive of over 50 boxes of manuscripts, letters and paperwork to the National Library of Scotland.
A regular contributor to BBC2's Newsnight Review, he also presented his own TV series, Ian Rankin's Evil Thoughts on Channel 4 in 2002 and Rankin on the Staircase for BBC Four in 2005. In 2007, Rankin appeared in Ian Rankin's Hidden Edinburgh and Ian Rankin Investigates Dr Jekyll and Mr Hyde also for BBC Four. Ian has been the subject of ITV's South Bank Show and BBC Radio 4's Desert Island Discs where his choice of music included Joy Division, The Rolling Stones and Van Morrison.
Ian has received an OBE for services to literature, opting to receive the prize in his home city of Edinburgh, where he lives with his wife and two sons.
1988 Elected Hawthornden Fellow
1991 Chandler-Fulbright Award
1994 CWA Short Story Dagger for A Deep Hole
1996 CWA Short Story Dagger for Herbert in Motion in Perfectly Criminal
1997 CWA Gold Dagger for Fiction for Black and Blue
1999 University of Abertay Dundee honorary doctorate
2000 University of St Andrews honorary doctorate
2000 Palle Rosencrantz prize (Denmark)
2002 OBE for services to literature
2003 University of Edinburgh honorary doctorate
2003 Whodunnit Prize (Finland)
2003 Grand Prix du Roman Noir (France)
2004 Edgar Award for Resurrection Men
2005 CWA Lifetime Achievement Award (Cartier Diamond Dagger)
2005 The Open University honorary doctorate
2005 Grand Prix de Littérature Policière (France) for Set in Darkness
2005 Deutscher Krimipreis (Germany), for Resurrection Men
2006 University of Hull honorary doctorate
2008 ITV3 Crime Thriller Award for Author of the Year, for Exit Music
2012 Specsavers National Book Award, Outstanding Achievement
2015 Elected a Fellow of the Royal Society of Edinburgh
2019 Ian donates his archive to the National Library of Scotland
2019 Double award win at the Capital Crime/Amazon Publishing Readers' Awards: Best Mystery and Best Crime Novel for In A House of Lies