IAN'S END OF YEAR ROUND-UP: 2019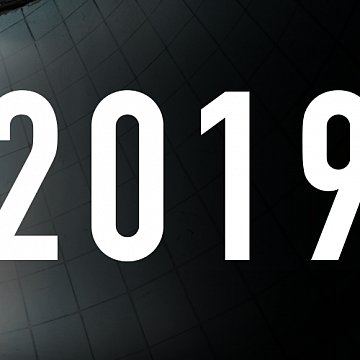 LOOKING BACK ON 2019, INCLUDING IAN'S FAVOURITE BOOKS, RECORDS AND FILMS OF THE YEAR
That Was The Year (Off) That Was
What a quiet year I've had. No book to write, so feet up for a well-deserved rest.
As we say in Scotland: aye, right.
Which is a way of saying, I seemed as busy as ever. In fact, I've learned that writing a book is the most relaxing thing I can do, because writing a book necessitates saying no to all the lovely offers to visit book festivals, do overseas tours, and meet for endless interesting putative projects.
The year kicked off with my long-standing literary agent Peter Robinson announcing that he was heading into retirement. Luckily my old editor Jon Wood was making the move from publisher to agent, so the transition was seamless. Not that I had much time to mull it over, as a good chunk of late January and early February was given over to my US tour for In A House of Lies. It's always fun to visit the States, but my mind may have been elsewhere, because waiting for me back home was a house move.
After fifteen years in a lovely big Victorian-era home, we'd decided to scale back. Our new flat wouldn't be even half the size of our old place, which meant a bountiful harvest for the charity shops of Edinburgh as I thinned out my record, CD and book collections. Fortunately, the National Library of Scotland had shown interest in acquiring my archives. I ended up sending them more than twenty large boxes of manuscripts, rejection letters, edits, correspondence and contracts – a fairly full writer's life, in fact. Being a life-long hoarder, I ended up buying an industrial-strength shredder so I could despatch several decades' worth of bus and train tickets, gas and phone bills, and other detritus. The process was both cathartic and emotional and I hope I only ever have to go through it once.
I managed a birthday trip to Budapest with family and friends prior to the actual house move. I'm writing this in my 'new' office – though I've been here six months I'm still getting used to it. Somewhere along the way, a fan pointed out to me that they'd recently got hold of a copy of my early novel Westwind and had really enjoyed it. I found this difficult to believe – I harboured no fond memories of the book. But I plucked it off the shelf one night and gave it a look – and was surprised to find myself intrigued by its premise and gripped by the plot. I couldn't really remember the Ian who had written it, so turned to my diaries of the late-1980s and found that its gestation had been drawn out while various players convinced me to make changes upon changes until it felt more like their book than my own. I didn't have a new book scheduled for the autumn, but I wondered what my publisher would reckon to Westwind. So I sent him a copy and waited to hear back.
July involved a lovely long plane, train and driving holiday, taking Miranda and I from Paris to Bologna and then (by rented car) to the south-east corner of Italy, followed by a ferry crossing to Greece with friends and a few final hot days in Kefalonia. It was nice to feel adventurous again, and being careful to avoid the Italian motorways we found spectacular terrain with (natch) food to match.
I returned from holiday to the splendid maelstrom of the Harrogate Crime Festival, where my task was to interview Harlan Coben in front of several hundred eager fans. Harlan is an easy interview – he'll talk about anything and everything and always with a trenchant punchline or a hilarious observation. The following month it was the turn of the Edinburgh Book Festival where I headlined a couple of shows but took things a bit easier than usual – though I had an absolute hoot watching from the audience as poet Brian Bilston entertained us royally.
Another festival popped up in September – Capital Crime in London. This is a newcomer to the circuit but boasted a jaw-dropping array of headliners and panellists. It was my pleasure to share the stage with one of my favourite American novelists of any stripe, Don Winslow. Don thinks deeply about the world he portrays in his hard-hitting books, and what came across was the depth of his knowledge, the breadth of his research, and his abiding faith in we humans, no matter what dark corners we come to inhabit.
And so… my publishers Orion gave Westwind the thumbs-up. I gave it a polish, replaced some of the clunkier passages, and waited nervously to see how its 'second life' would pan out. On publication, it hit number 2 on the UK bestseller list (held off the top slot by a new and interesting writer called Lee Child – look out for him). Which brings us to late November and me sitting here writing this annual newsletter. I can't help but think of the round robins we sometimes encounter tucked into Christmas cards from people we used to know. So I'll sign off by adding that there's no real news to impart regarding the projected Rebus TV reboot. But the Rebus stage play Long Shadows was such a hit I've been asked to try to come up with a follow-up – work on that is ongoing.
And I've started a new novel. Started it last week in fact. Early days, so I've no idea if it's any good or where it's heading. All I can really tell you at this stage is: Rebus is coming back. Hopefully in the autumn of next year, by which time I'll be sixty and the owner of a free bus pass. Unlike Rebus, I'll almost certainly claim mine and use it…
*
Time for my picks of the year. I seem to have read more books than usual (over eighty at the last count) but bought fewer albums (sixty or thereabouts). Not sure what that says, but my favourite books included Jane Harper's The Lost Man, Philip Kerr's posthumously-published Metropolis (for which I was honoured to pen an introduction), Elif Shafak's mesmerising Ten Minutes and Thirty-Eight Seconds in This Strange World, Don Winslow's The Border, Edna O'Brien's Girl, and Mick Herron's Joe Country.
My albums of the year (in no order) are: 'The Undivided Five' by A Winged Victory for the Sullen; 'Guesswork' by Lloyd Cole; 'Music for Megastructures' by L-Space; 'The Paralian' by Andrew Wasylyk; 'Why Hasn't Everything Already Disappeared?' by Deerhunter; 'The Long Goodbye' by Pere Ubu; 'Scottish Songbook' by Karine Polwart; 'Office Politics' by The Divine Comedy; 'Sule Skerry' by Erland Cooper; 'To Believe' by The Cinematic Orchestra'; International Teachers of Pop (self-titled album); 'Encore' by The Specials.
A mixed bag there – something for everyone!
As for films: Joker (which I caught a few weeks back) will stay long in my memory, but back at the start of the year I saw Stan and Ollie, and that's a keeper too. Between times the two other films that stand out are The Sisters Brothers and John Wick 3. Can I be the first to pitch the crossover we all want – Wick Versus Joker? As they say in the trade, I'd buy that for a dollar…
I hope you have a great Christmas. Just remember: politics comes and goes but books are forever – even the ones I handed over to the charity shops of Edinburgh.
Ian