Ian's end of year round-up: 2021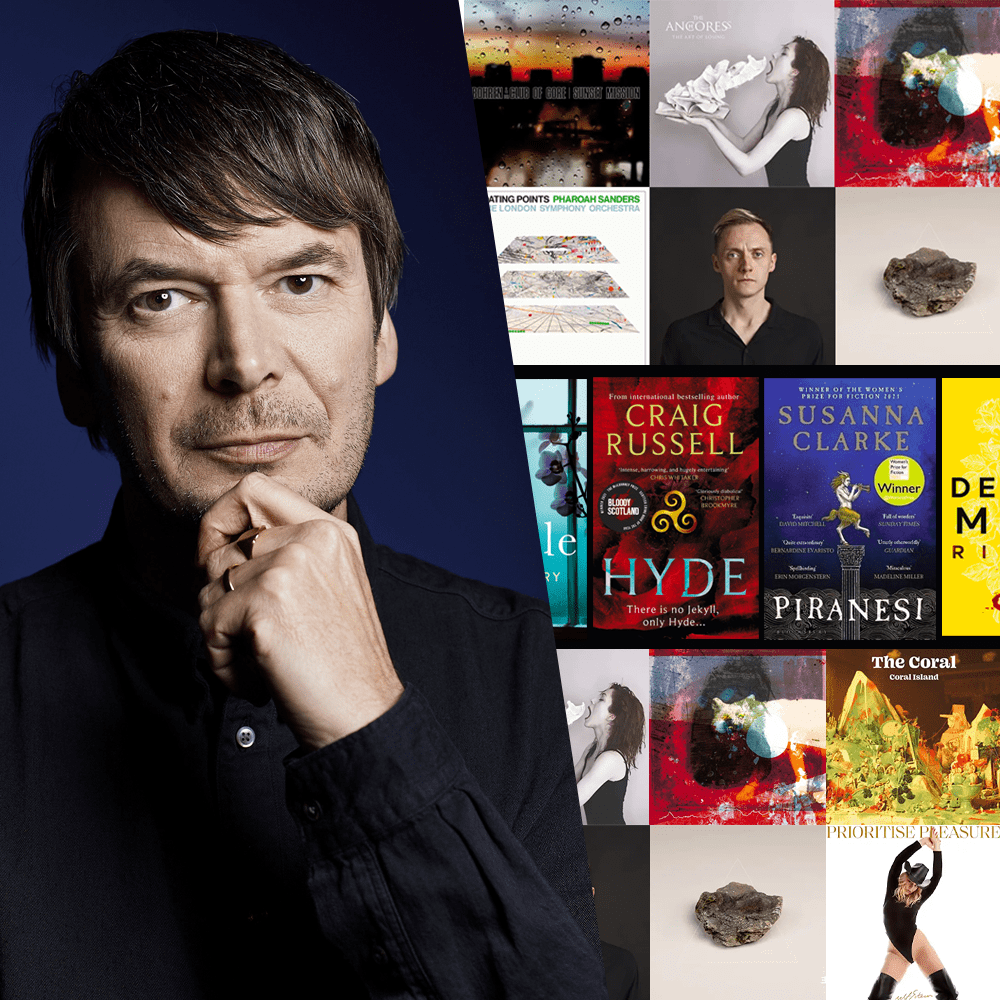 Another year draws to a close, so here's Ian's traditional end of year review, as he looks back on 2021 and shares some of his highlights – as well as his favourite books, records and films of the last twelve months…
Here we are again then.  Not quite in lockdown but with the world around us still – good Scots word klaxon! – shoogly.  I've become adept at online book festivals and Zoom meetings of all kinds.  Bought an HD camera and everything – though only after broadcasters complained that the one attached to my cheap and cheerful laptop made me look like a bit of CGI from the original Ghostbusters film.
2021, eh?  I finished my December 2020 newsletter by hoping for 'a smoother ride in the year ahead'.  Which is why I failed my Brahan Seer audition.  It took me until November this year before I finally set foot in an airport.  I was off to Reykjavik for a very enjoyable Iceland Noir.  There had been other festivals earlier in the year, some done via computer screen and others proper physical manifestations.  The Theakston/Harrogate Crime Festival in July was a testing ground for the latter and worked brilliantly thanks to tireless planning.  Bloody Scotland in Stirling and the Edinburgh Book Festival were fun, too, though of course we were all still wary.
One thing that doesn't seem to have changed in the second year of the pandemic is readers' appetite for new books.  When A Song For The Dark Times was published in paperback in May it hit the top spot in the UK chart and stayed in the top ten for two whole months.  I was just sorry there was no proper book tour to go with it.  Instead, I stayed busy writing a little thing for TV called Murder Island.
You may know if you read last December's round-up that as soon as I finished writing A Song For the Dark Times I was asked to consider completing a novel which had been started by one of my writing heroes, William McIlvanney (RIP).  Having finished that project in December 2020 I was almost immediately approached by Scottish Television and Channel 4 about writing the script for a reality-game show-whodunit-drama hybrid to be set on a Scottish island.  Reader, I said yes.  It was hard work but a lot of fun, my contribution all done via e-mails and Zoom conferences.  Exciting too, since nothing quite like it had ever been attempted on TV.  There would be a storyline and some prepared dialogue, but because the 'detectives' were members of the public we had no control over what lines of inquiry they would follow or which cast members they'd want to question.  The whole thing was therefore ever-so-slightly nerve-wracking.  The actors had to be on their toes and the filming crew alive to myriad possibilities.
The show finally aired in the autumn and people playing along at home seemed to enjoy following the various threads.  There were even brilliant theories and suggestions put forward each week by viewers, and I only wish I'd thought of them first.
Yeah, so that was a chunk of the writing year gone.
And then came publication of The Dark Remains my novel with William McIlvanney.  Again, I'd been nervous about how this would be received.  Had I successfully mimicked his style and captured the sense of time and place?  My biggest supporter was Willie's widow Siobhan, who told me after reading the book that she couldn't see the joins and could actually hear Willie's voice.  That was a major relief and gave me heart.  And as it turns out, the book has been given the thumbs-up from readers far and wide.  Maybe like me part of their enjoyment is that the story takes place in 1972, in a simpler world lacking new technology, social media and deadly viruses.  The book was another top ten hit in the UK and I can't wait for it to be published elsewhere.
Now I need to get thinking about next year's book.  It's germinating and, yes, it'll involve John Rebus in some way, shape or form.  Once Christmas is out of the way, it'll be head down and full steam ahead.
Hopefully.
It is early-December as I write this and my notebook tells me I've read eighty books so far this year – quite a few more than in a 'normal' year.  Here are some of my favourites: Ewan Morrison – How To Survive Everything (adventures of a teenage girl and her survivalist father); D L Marshall – Anthrax Island (the spirit of 1960s gung-ho adventure stories looms over this tale of death and deception); John Boyne – The Echo Chamber (caustic and very funny novel about a gruesome modern-day family at war with each other and the truth about themselves); S A Crosby – Razorblade Tears (two mismatched fathers avenge their sons' slaughter in a book that is as bloody as it is redemptive); Sarah Hilary – Fragile (shades of Ruth Rendell, Joe Orton and Daphne du Maurier in this provocative novel about a homeless woman taken in as a housekeeper but whose demons are not far behind); Denise Mina – Rizzio (short, elegant and fascinating slice of Scottish history as Mary Queen of Scots plots her survival after her closest friend and political ally is assassinated); Susanna Clarke – Piranesi (as labyrinthine as the fantastical world its hero inhabits, this is a book to be enjoyed and then pondered); Sarah Hall – Burntcoat (a short novel that packs a hefty emotional punch as an artist deals with the virus plaguing her society); Will Carver – The Beresford (the Theatre of the Absurd gets dunked in gore as the residents of a creepy boarding house take part in a never-ending killing spree); Craig Russell – Hyde (Hyde is a detective in 19th century Edinburgh, tracking a seemingly supernatural killer while himself afflicted by doubts and blackouts).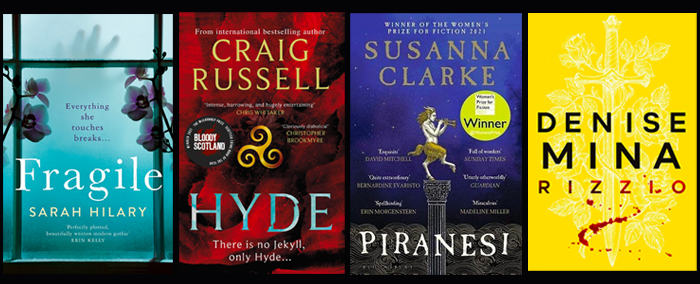 There you have it – my top ten.  So many fine books were published in 2021 and my To Be Read pile for 2022 is already rising from floor level past the surface of my writing-desk…
I didn't go to the cinema much in 2021 and somehow managed to miss most of the big-hitters.  I liked the Summer of Soul documentary a great deal, and the escapism of Suicide Squad was equally welcome, while Candyman was a very clever take on the original.  Censor is the film that stays with me though – another intense central performance that reminded me of one of my favourite films of 2020, Saint Maud.
As for albums … again, music got me through tough times in 2021.  Here are eight of my favourites:
Fergus McCreadie – Cairn
Mogwai – As The Love Continues
The Anchoress – The Art of Losing
Floating Points/Pharoah Sanders – Promises
Bohren and Der Club of Gore – Sunset Mission
The Coral – Coral Island
Self Esteem – Prioritise Pleasure
Hamish Hawk – Heavy Elevator
Okay, we're done.  No promises re 2022.  I'll try to write a novel.  Hopefully publication will come with a book tour attached.  But frankly who the hell knows?  Meantime, you can usually find me somewhere in the vicinity of The Oxford Bar.  Or try The Abbotsford… or The Bow Bar… or…
Have yourselves a merry little Christmas and a stonking New Year.
Ian