IAN LOOKS BACK ON THE LAST TWELVE MONTHS AND SHARES SOME OF HIS FAVOURITE BOOKS, FILMS AND RECORDS
I know, I know: I never call, I never write…
I've been very remiss this year in not doing a regular newsletter.  Too much going on elsewhere in my life, most notably In A House Of Lies.  Believe it or not, all I had at the start of the year was a June deadline for a new book.  Panic set in and the adrenaline got going.  I took a 10-day winter break and did some mulling.  The mulling turned into planning and by the time I got home I knew I had the kernel of a story.  February to June was spent getting it down on paper, shaping and reshaping it, and finding the right title.
The title, by the way, just popped into my head.  It's not a song title or a misheard lyric or anything like that.  It just seemed absolutely right for the story I was writing.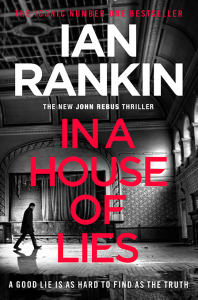 Apart from a few literary festivals (Rome, Lyon and Cromarty spring to mind), that was the whole first half of 2018 taken care of.  But then I'm forgetting the Muriel Spark Centenary – I took part in a few things to help celebrate that brilliant novelist.  I'd also done a bit of work on the first-ever Rebus stage play.  Playwright Rona Munro and I had done the bulk of the plotting the previous autumn and winter, but there were things that needed tweaking and tidying up, all before the world premiere at Birmingham Rep.  A few eyebrows had been raised when Irish actor Charles Lawson was cast as Rebus, but Charles proved the role's equal, managing not only a very passable Scottish accent but also bringing out the character's blend of world-weariness, doggedness and dark, droll humour.  John Stahl as Rebus's nemesis Cafferty was equally inspired casting, the actor mixing charm and charisma with absolute cold-blooded menace.  Between them stood Cathy Tyson as a sympathetic Siobhan Clarke, one eye on her blossoming career, the other on her errant one-time colleague and mentor.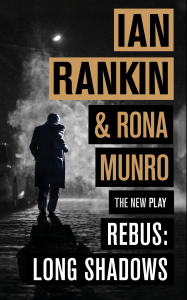 Some of you might have heard about Charles's health scare on the opening night in Edinburgh – a moment of high drama that I hope never to experience again! But like a trouper, Charles was back on stage after missing only two nights, and fans have been enthusing to me about the play via social media ever since.
I should finish by saying that there are further dates for the play early in 2019 – details should be elsewhere on this website!
So to In A House Of Lies, and what a thrill it was when it went straight to number 1 in the UK bestseller list!  As I write this newsletter, it's enjoying its ninth week in the top ten, for which I'm hugely grateful.  Many of you have let me know that it's one of your favourites in the series, which is especially heartening.  With Rebus now retired and battling health issues, each book presents me with fresh challenges.  I have to say, I'm relishing them, and every year I come to a deeper understanding and appreciation of Rebus and his supporting cast.
In 2017 we celebrated Rebus's 30th anniversary with a weekend of events in Edinburgh, including a discussion where I was joined onstage by professionals (a retired and a serving detective, and a forensic anthropologist).  This was enjoyed so much by the audience that we repeated the trick on this autumn's UK book tour.  In different cities I would be joined by different professionals, so we could debate and explore the differences between factual and fictional crime.  I thoroughly enjoyed these sessions and learned a lot.  I don't doubt some of it will appear in future stories!
And now it's early December (the evening of the 10th to be precise) and earlier today I signed some stock at Blackwell's Bookshop in Edinburgh – my final commitment of 2018.  So what's in store for 2019?  Well, I do have a few writing projects that I need to begin – just small things; not a full-length novel.  I MAY get round to one of those after the summer, but no promises.  The TV rebirth of Rebus is still a firm possibility, but all I can say right now is that I've read the first hour of genius screenwriter and playwright Gregory Burke's script and it is both visceral and moreish.  Stay tuned…
And now, as usual, my picks of 2018.
Favourite books this year included: Skin Deep by Liz Nugent; The Smiling Man by Joseph Knox; The Way of All Flesh by Ambrose Parry; All That Remains by Sue Black; Kill Them All by John Niven; Sunburn by Laura Lippman; Dark Sacred Night by Michael Connelly; The Long Take by Robin Robertson; The Darkness by Ragnar Jonasson.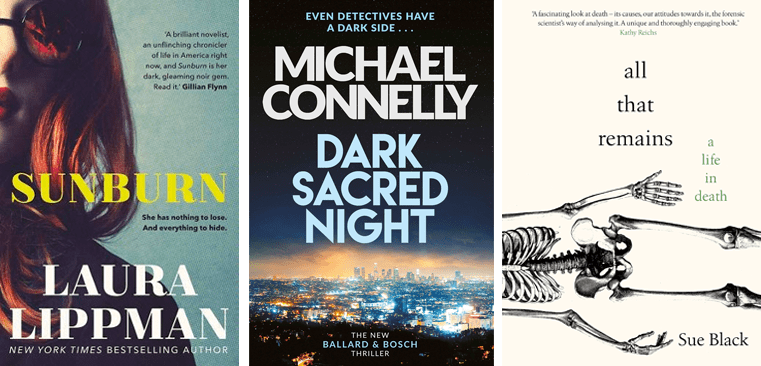 My favourite films this year were: A Quiet Place; Annihilation; Night Crawler; Lucky; Sorry To Bother You.
Albums of the year: The Orielles (Silver Dollar Moment); Tracey Thorn (Record); Tracyanne and Danny (Tracyanne and Danny); Solareye (All These People Are Me); The Good, The Bad and The Queen (Merrie Land); Kathryn Joseph (From When I Wake The Want Is); Head Technician (Profane Architecture); Francis McDonald (Hamilton Mausoleum Suite); The Filthy Tongues (Back To Hell); Mogwai (Kin).
Okay, that's 2018 taken care of.  I'm off to pour myself some mulled wine, wrap myself in tinsel, and stick A Charlie Brown Christmas on the CD player.  Stay merry and bright and I'll see you on the other side…
Ian