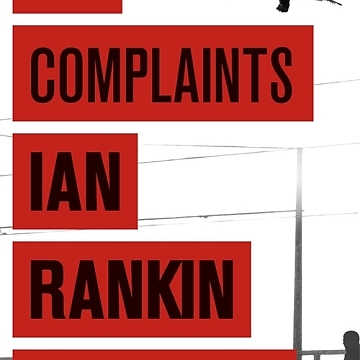 Well, I enjoyed my 'year off', even though it proved to be every bit as busy as a year when I'm writing a novel.
Those of you who follow me on Twitter (where I'm @beathhigh) will have heard about some of my adventures. One of them took me to my old school, Beath High in Cowdenbeath, where I was surprised to see they'd actually knocked down the school and built a brand new one. So much for a trip down memory lane…
At some point in December, the Daily Mail newspaper will be running a brand new Inspector Rebus short story. It is set at Christmas and Siobhan also features, along with hundreds of Santa Clauses. It was fun to spend time with Rebus and Siobhan again. They really haven't changed. I used the story as a way of limbering up for a new novel. I'm researching and plotting it right now and hope it'll be on the shelves by September 2011.
TV news: scripts are being written for both The Complaints and Doors Open. I've seen first episodes of both (in script form) and they look really good. Oh, and Rebus ain't necessarily gone: Scottish Television are considering what in modern parlance might be called 'a re-boot'.
As some of you may know, a fair bit of my sabbatical year was spent on the script of a film based on James Hogg's nineteenth century masterpiece of twisted fiction, The Private Memoirs and Confessions of a Justified Sinner. We're still on the hunt for the right director.
I've also scripted a one-off comic-strip for Clint magazine, written the introduction to a biography of musician Stuart Adamson, and written a short story which some film students in Edinburgh hope to turn into a fifteen-minute feature.
Busy with travels, too: festivals and gigs and promotional outings. Since I share the same publisher as Keith Richards, I was invited to meet him in London. That was fairly memorable. But the best gig I saw all year may just have been Robert Plant and his band at the Usher Hall. They were a class act, as were Southside Johnny and the Asbury Jukes at the Ottawa Bluesfest in July.
Actually, there were lots of great albums released this year. I was given an hour of airtime on BBC 6 Music in November to play some of my favourites: Teenage Fanclub, Edwyn Collins, Steve Mason, A Band Called Quinn, Errors, Phantom Band, K T Tunstall, Silver Columns, Belle and Sebastian, The Burns Unit, Unkle Bob, Lloyd Cole, and Mogwai. Alas, there wasn't time for Broken Records, Aberfeldy, Isobel Campbell/Mark Lanegan, Frightened Rabbit, The Unwinding Hours, and Kid Canaveral… though some made it onto a Spotify playlist I did for the Spectator magazine's arts blog. And hey, those are just the bands/artists with a Scottish connection. To complete my albums of the year list I'd have to add Robert Plant, I Am Kloot, Sufjan Stevens, and DangerMouse/Sparklehorse.
And maybe a dozen more I've forgotten about.
So while there hasn't been a new book out in 2010, it's been a busy year. Have you tried the Rebus' Edinburgh iPhone app yet? The app provides you with a guided tour of Edinburgh from me and includes specially created videos, audio, photography and lots of exclusive content. It's also just been update to include more of my favourite Edinburgh locations for winter, along with new wintery photographs. The new version is available for a limited time only, until Burns Night on 25th January 2011, so download yours from the app store now.
My books of the year list was in the Observer at the tail-end of November. I picked Antonia Fraser's memoir of life with Harold Pinter, Must You Go?, Nick Kent's autobiography, James Robertson's novel And The Land Lay Still, and Saul Bellow's collected letters.
Most fun I had at a film all year: Lucky Luke. It was at the Edinburgh Film Festival and is unlikely to go on general release in the UK. It's a French cowboy film based on the comic books. It looked amazing and some of the visual gags were hilarious.
So onwards to 2011. The new novel will take me up to June. And once it's published, the rest of the year will be all about the touring: UK, plus maybe Canada, maybe Australia and New Zealand. I'll have to take a break from the novel in March, as I'll be touring the USA (14th – 28th). No itinerary as yet.
I'll also emerge from the bunker at the start of February to help with the latest Edinburgh City of Literature project. In past years we've had the whole city reading (and talking about) books such as Kidnapped or favourite poems. This year the subject is song lyrics and we're taking the campaign out of the city. There'll be gigs, panels where lyricists talk about their craft, and workshops. I think I'm due to quiz King Creosote on a stage somewhere at some point. Look out for that.
For my not inconsiderable sins, I've also agreed to give a talk at the National Gallery of Scotland in Edinburgh on the afternoon of 1st January. Feel free to grab a ticket and come along. Maybe we can compare hangovers.
Cheers,
Ian