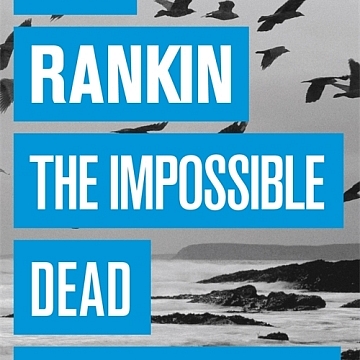 This is the calm before the storm.  As I sit down to write this newsletter, publication of The Impossible Dead is less than two weeks away.  I've had great feedback from the few people who managed to get a proof copy of the book – and the first review (by A N Wilson in Readers Digest) was terrific  –  but like most writers I'm still nervous.  How will the book be received?  Will you like Malcolm Fox's latest adventure?  Quite a lot of the novel takes place away from Edinburgh, and I'm wondering how that will go down.  When my UK tour starts, I'll begin to find out.  A few quick readers will already have finished the book by the time I get round to signing their copies in London, Stirling or Manchester (for full tour listing, see the events page of my website.  I certainly enjoyed spending more time with Fox and his team –  so here's hoping.
Those of you who follow me on Twitter (where I'm @beathhigh  – the name of my old high school) will know what I've been up to recently: a short holiday in Greece; some charity events; an entertaining night in Bangor, Northern Ireland, with local hero Colin Bateman; and interviews for various newspapers and magazines, most of which should be appearing right around now.  You'll have to wait a bit longer to see me in Classic Prog Rock mag, which comes out monthly.  I'm just wondering if they'll use the photo of me in my bath, with a Hawkwind album….
Straight after my UK tour, I head off to a series of festivals across Canada (again, details are on the events page.  I'm looking forward to catching up with old friends in treasured bars, some of which still have jukeboxes.  I'll try to tweet as often as I can  –  virtual postcards, if you will.  Sadly, I doubt I'll have much time for music shopping, though I know where the stores are…  In between the UK and Canadian tours I have about two days at home, which may allow me to attend concerts by Hawklords and Caravan.  I've never seen Caravan live, but their album 'For Girls Who Grow Plump In The Night' is one of my all-time favourites.  I did see Hawkwind many years ago at Edinburgh's Usher Hall.  The place was full of Hell's Angels, one of whom spent the entire evening with his head in one of the on–stage bass bins.  I felt so sorry for the unloved support act (Patrik Fitzgerald) that I went out and bought his album.  I still like his song Little Fishes…
On Friday October 7th I will be appearing on BBC2's Review Show and when I come home from the tour, I'm acting as guest curator at the Aberfeldy Festival (4 and 5 November), which means I get to watch gigs by John Hunt, Star Wheel Press and James Yorkston (4th) and Ballboy, A Band Called Quinn and Admiral Fallow (5th).  It's a hard life – or, as we say in Scotland, a 'sair fecht'.  Early November, I'll also be recording a programme for BBC Radio Scotland about my favourite jazz tracks – I'll have transmission details for you later in the year.  And I'll be discussing a love of Robert Louis Stevenson with actor Nigel Planer in Edinburgh on the evening of 17 November.
I always try not to do too much in November and December – they are my plotting months.  I sit and think about what story I want to tell next, what themes I might want to explore.  And by the end of the year, I better have SOMETHING, because I try to begin writing a new book in the first week of January.  I don't have story-ideas piled up in a corner of my room, but I do have a file in which I keep newspaper cuttings, potential names of characters, possible titles, and scribbled bits of description and the like.
Early on in November, I'll open it and see what's there.
I know you're dying to ask what music I've been buying and listening to recently.  Lots of great stuff, from a 4-CD boxset called 100 Years of the Blues (curated by my friend Richard Havers) to new albums by the likes of Gillian Welch, Battles, Waterboys, Edinburgh School for the Deaf, Mogwai, Ry Cooder and Remember Remember.  As for books, Fun and Games by Duane Swierczynski was a hoot, The Cut by George Pelecanos was impeccable, and I'm laughing out loud at Colin Bateman's latest, Nine Inches.
In fact, I need to load up both Kindle and iPod before I begin travelling – it's the only time I seem to use them.  So if you'll excuse me…
I'll try to write again before Christmas. Really I will. Cubs' honour.
Oh, and when you get hold of The Impossible Dead you'll notice that on the dedication page it says 'I(n) M(emoriam) David Thompson.  David was a brilliant Houston-based bookseller, crime fan, and all-round good guy, who died way too young.  A lot of us miss him.  I doubt I'm the first crime writer to dedicate a book to him; nor will I be the last….
Ian